Birds
Owl, Barn | Tyto alba | Eastern population
Status: Endangered
Last Examination and Change: November 2010 (No Change)
Canadian Occurrence: ON
Status Criteria: D1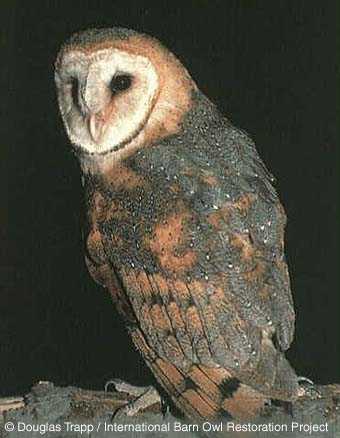 Reason for Designation:
Eastern Canada supports a tiny fraction of the global population of this charismatic nocturnal raptor that preys on small rodents. Owing to its intolerance of cold climates and deep snow cover, populations in Canada are restricted to parts of southern British Columbia and southwestern Ontario, where the species is now close to being extirpated. Across the northern extent of its eastern North American breeding range, the species is declining and is threatened by ongoing loss and degradation of grassland and old field habitat and by the conversion of old wooden barns and other rural buildings to more modern structures. This owl is also exposed to increasing levels of road-kill mortality owing to expansion of the road network and increases in traffic volume.
Status History: The species was considered a single unit and designated Special Concern in April 1984. In April 1999, the Western and Eastern populations were assessed separately. The Eastern population was designated Endangered. Status re-examined and confirmed in May 2000 and November 2010.
Find out more about this species on the Species at Risk Act Public Registry

(note that by selecting this link you are leaving the COSEWIC Web site)